2023 Lieuwe SHOTGUN Twintip Kiteboard
SKU:

UPC:

MPN:
Description
2023 Lieuwe SHOTGUN Twintip Kiteboard - HIGH-END FREERIDE
Sizes: 125x38 / 130x39 / 133x40 / 136x40.5 / 138x41 / 141x42
SIZE
WEIGHT
BOARD
WEIGHT
125x38
<50kg
2,30kg
130x39
50-60kg
2,35kg
133x40
60-70kg
2,35kg
136x40,5
70-80kg
2,55kg
138x41
80-90kg
2,65kg
141x42
>90kg
2,85kg

* Weight Tolerance +- 5%
Description:
Crafted for speed, control and big air with ultimate ride comfort in any condition.
OUR LEGENDARY FREERIDE & BIG-AIR MACHINE:
Our legendary Shotgun is the result of a decade long pursuit of perfection. A sophisticated 'jack of all trades', master-crafted to ride fast, cruise comfortably and take you to new heights in every possible riding situation.
Features:
ULTRA LIGHT
ULTIMATE RIDE COMFORT
It's medium flex Ultra light 3d wood-core delivers lots of pop while still being forgiving and a high top-end speed with perfect control. Soft and predictable landings and great chop handling are guaranteed due to the single concave to quad channels.
OUR FIRST LOVE
AIR. CRAFTED
The Shotgun was our first love and is our best selling board worldwide. After many years of updates the crowds insisted on us to not change the board anymore because it is perfect. Guess only legends can get away with this…
Characteristics: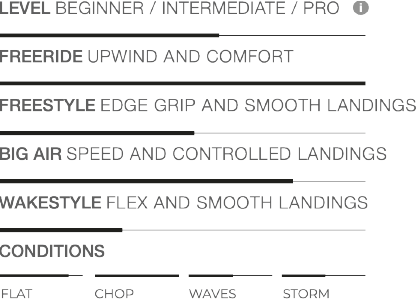 View All
Close