Description
Ozone Uno V2 Kiteboard Kite
What our team thinks...
The Ozone Uno V2, while initially marketed as a kids or trainer style kite has really found its niche with freeride foilers. It's smaller sizes, affordable price, and fast & smooth power delivery make it a great choice for hydrofoiling on larger foils with less kite power. It is also perfect as a small kite for travel at only 3-3.8 lbs.
THE UNO V2 IS A SIMPLE, AFFORDABLE AND ROBUST INFLATABLE DE-POWER TRAINER KITE. IT'S AN IDEAL KITESURF TRAINER FOR SCHOOLS, AND PERFECT TO HAVE AS A FUN ADDITION IN THE QUIVER TO GET FAMILY AND FRIENDS INTO KITING! BEING A LIGHTWEIGHT PACKAGE IT IS EASY TO TRAVEL WITH AND KEEP IN THE CAR.
Responsive, fun, smooth and stable define the Uno V2. It comes in three sizes - 2.5m, 4m and 6m all with enough power to ensure beginners can easily progress to the next level.
The Uno V2 flies with our standard Kitesurf control system, this enables the student to progress easily to larger kites and to remain familiar with the control system set up. We recommend using line lengths of 15-25m.
The Uno V2 is amazing for teaching; the student can learn all the basics of flying an inflatable kite and how to use the release systems while using a small sized kite with less power. The Uno V2 is also ideal for lighter weight riders under 45kg for riding on the water.
The Uno V2 can also be used for first lessons on land. No previous kite experience is required when accompanied by a competent adult kiter or instructor.
Optional - Ozone FOIL CONTACT WATER V4 Control bar
A CLEAN AND SIMPLE DESIGN, WITH AN EASY-TO-USE TRIM SYSTEM AND FEATURING OUR LATEST INNOVATION - THE CLICK-IN LOOP.
Innovative Click-In Loop
An all-new push-away quick release with an innovative one-step Click-In reload function that is incredibly intuitive. The release handle fits comfortably in the hand, it is quick and easy to activate the release by pushing the handle away. A self-positioning release mechanism locates automatically, ready to be re-loaded by simply 'clicking' in the loop. The Click-In Loop…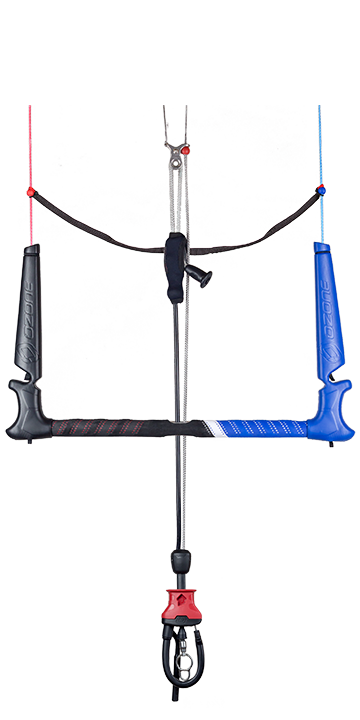 IMPORTANT NOTES:
The kite is water re-launch-able, but we recommend that you keep it flying and out of the water if possible! A drainage system on the wing tip allows any water that may have entered the kite to drain out. Do not use the kite in waves.
Always use a Brake Handle when flying a foil kite. This is the handle/line spanned between the back leader lines on your control system. This easy to grab handle makes inflation, self-landing and reverse launch easier.
This kite features a simple yet effective front line flag out release in 4-Line Closed Cell mode. The 5-line Open Cell mode is recommended for Snow or Land use only. The air intake valves MUST be open when using 5-line mode – if the valves are not set open this will compromise the functionality of the Internal Re-ride Release System and could cause to damage to the kite. After releasing the flag out you should check the speed system, bridle lines and flying lines for twists before restart.
Speed System and Bridle lines should be regularly checked and maintained in the correct trim or the kite will not perform as designed. If they are worn or not to factory specification (+ or - 15mm) they must be replaced. How To videos and a Bridle Check PDF with all measurements can be found at www.ozonekites.com
View All
Close