2 Day Kiteboarding Lesson w/ FREE Fluxx Trainer
SKU:

UPC:

MPN:

2-day-kite-lesson

Condition:

New
Bulk discount rates
Below are the available bulk discount rates for each individual item when you purchase a certain amount
| | |
| --- | --- |
| Buy 3 - 3 | and get $50.00 off |
Description
Lessons will resume spring 2020
Live Your Dreams - Learn to Kiteboard!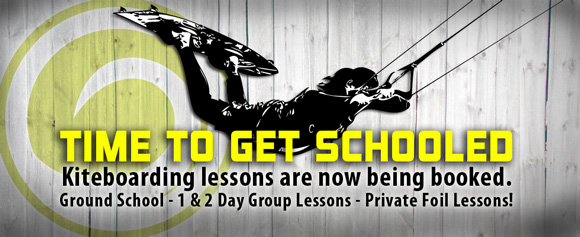 Alright, you've finally decided to dive into this magnificent sport we humbly call kiteboarding. This course, our most popular for beginners and those needing a refresher, is held 2 times weekly throughout the spring, summer and fall. Our 2 Day Camps are the ideal way to become a safe and self-sufficient kiteboarder. As our most comprehensive class, we will cover all of the knowledge areas of kiteboarding, begin to work seriously on the skills needed to get you riding, and finish with a personalized gear recommendation. Our goal for this class is to make you comfortable and safe enough to progress on your own. Book with friends or family to make the learning experience even more fun!
Camps run for approximately 4 hours each day and are available in the mornings*. There will be no more than 3 students to an instructor.
Lesson Cost:
Do you have more than one person who wants to join? Call our Crew at 800-622-4655 for special group rates!
Thursday/Friday: $450
Lessons are from 10am to 2pm
Saturday/Sunday: $499
Lessons are from 9am to 1pm
What We Cover:
Weather

Gear

Safety & Riding

Weather concerns
Kites, boards, & harnesses
Safety procedures
Land based self-rescue
Wind speed & direction
Gear set up, rigging, & tear down
Flying an inflatable kite
Assisted launch/land
Wind window
Set up troubleshooting
Basic kite skills
Self-launch/land
Obstacles & impediments
Gear care
Procedure review
Relaunch
Suitable kiteboarding locations
Personalized gear fitting
Body dragging
Land based mock board start
Riding posture
Water relaunch
Water board starts**
Water based self-rescue
**Skill, time, & weather permitting
The Not-So Fine Print
Cancellation/Rescheduling Policy
You may cancel your lesson or camp up to 10 days prior to the camp for a full refund. We will do our best to reschedule lessons to accommodate yours and the instructor's schedule. Any cancellations 24 - 48 hours before your lesson will result in no refund.
When rescheduling, please remember that we have a limited number of spaces available for each lesson. Any cancellations may result in another potential rider losing their spot for a lesson. Thank you for being in this regard.
No Wind? No Worries!
We will cover everything else that you need to know for kiteboarding, such as wind directions and safety, kite setup, and the basics of launching and landing kite, as well as self-rescue.
You'll be surprised with just how much you can learn in light wind conditions.
In most cases, the wind shows up in time to finish the lesson. We reimburse in the form of in-store credit or refunds in the event we cannot reschedule for any unused portion of your lesson.
If you have any more questions, feel free to call or email us at any time. Remember, if you don't start this year, you will still be just watching next year, wishing you were on the water with us.
MACkite has been offering lessons for over 15 seasons and we're pumped for another season of teaching students the life-changing sport of kiteboarding! We offer all of our summer lessons at the MACshack at 1801 Beach St in Muskegon, which is reserved specifically for our students. Our instructors teach hundreds of students every year on how to ride safely and to learn the undying love of kiteboarding. We hook up our students with the latest gear - after all, we are in the business of making kiteboarders!
In the fall, winter, and spring, students will enjoy their lessons in our indoor teaching area at our Board Sports Center at 16881 Hayes St in Grand Haven. During those cold sessions, we will instruct you the basics while you remain toasty in our shop, then we'll throw you outside to practice what you've learned.
Whether you're kiteboarding or snowkiting, MACkite will follow you through the entire process. Why? It's our job, of course! We love getting people stoked about kiteboarding.
View All
Close
9 Reviews
The MACKite crew is a community of very active kiteboarders who clearly love the sport and are deeply knowledgeable. My wife and I did a two day intro course and bought a really nice starter kit afterwards. Here are our impressions:
- We thought the sport looked super fun but didn't know people who do it so we took the plunge for a lesson. It is definitely an investment so we really hoped the instructor would be competent and make good use of our time (and money). We were not let down! There is a lot to cover in 8 hours and Alex used time efficiently without rushing. You really do need to focus on each task!
- The training site is safe and functional. Safety was a strong emphasis in everything.
- Small class size limited to three people is great, and essential really. We just had two and that was ideal.
- The class is geared toward teaching the basics you need to know to go out and practice safely on your own (not solo, but unguided with friends) and they really work to get you there. We feel and our instructor feels that we got there (though there is still much to study and practice).
- They were flexible with scheduling sessions to accommodate wind.
- The shop is awesome, everybody we met associated with teaching or retail absolutely loved the sport. They all wanted to share their love and help us not only get started but continue to play beyond the lessons, giving tips for good spots, used gear options. We talked with several people before committing to the gear and nobody pushed us into it, just shared inspiration and advice from experience.
- When we went for the gear they worked with us on price and upgrades since we had done the lesson.
- Be prepared for the spend, but if it's anything like other amazing pieces of gear we've bought, like packrafts and backcountry skis, you'll never regret having bought it if you use it!
- Finally, competent people can be hard to find in the world. This place has them.

From the moment of my purchase all the way through the lessons themselves, MacKite was clear with their communication and very helpful. The actual lessons themselves were extremely informative and my instructor was very patient, helpful, and understanding. This was a fantastic value and I would recommend it to anyone thinking about trying kiteboarding!

I've bought from Mackiteboarding on several occasions and they always go above and beyond to be helpful. Their knowledge of Kiteboarding and their customer service is the best I've ever dealt with.

I haven't had my class yet. This Wed and Thur

Learned so much more than I did in the last 3 months on my own.
Instructor was great. He took my confidence to the next level.
Will be taking a private lesson next spring.

Was excellent! Bryan is a wonderful teacher, so patient. Learned a lot and had fun at the same time. Great experience!

Really enjoyed my two day session. Solid instructor, enthusiastic and super knowledgeable. Good equipment, great location and definitely a positive way to get started.

Dear MacKite,

My sister and I recently had our follow up lesson and I wanted to share with you our experience.

First off our Instructor was incredible. His name was Brian and he was by far the best teacher we had and here is why. It felt as though he actually wanted us to pick up kiteboarding. He encouraged us through every step, gave positive feedback and productive criticism, and overall made the class to be everything we dreamed of. Kudos to him. If there is anything you can do to show him our appreciation, that would be incredible. Thank you for the extremely enjoyable experience and I encourage you have him co-teach with other instructors in order that they may follow his example.

The two day kiteboarding lesson with MACkites is one of the few experiences in life that will fulfill AND exceed your expectations. In a matter of two short days I went from knowing nothing about kiteboarding to feeling confident and able to practice on my own and choose the proper gear. My instructor, Tucker, was an awesome teacher and very patient. I highly recommend the two day kite lesson to anyone interested in kiteboarding. Lessons will provide you with priceless knowledge that you can use your entire boarding career. As always, "Good Winds!"
View All
Close