Description
Ozone Hyperlink V2 Closed Cell Foil Kite
What our team thinks...
The Hyperlink V2 is unquestionably our favorite lightwind hydrofoiling kite. It is easy to fly, has great depower, and gets you in the water when you would otherwise be sitting on the beach. Compared to most other foil kites, the Hyperlink V2 is far superior in ease of use and staying aloft in sub-par wind.
THE HYPERLINK V2 BRIDGES THE GAP BETWEEN INFLATABLE AND FOIL KITES, IT'S AS DYNAMIC AND ENGAGING TO RIDE AS AN INFLATABLE COMBINED WITH THE HIGH PERFORMANCE CHARACTERISTICS OF A FOIL.
With unparalleled stability, lighter weight, improved handling and bar feeling the V2 design takes it to the next level. It excels on all surfaces, with our innovative valve design it can be set up for the water, snow and land, as a Closed Cell or Open Cell kite.
The Hyperlink V2 features an all-new material combination with a durable, airtight and lightweight double rip-stop for the upper and lower surfaces. The new material has a unique formulated coating to help shed water, improving flying characteristics and water re-launch. The Hyperlink V2 is durable and strong, while being as lightweight as the V1 Ultralight version.
The Hyperlink V2 is a mid aspect ratio design incorporating a minimalist bridle set up, ensuring the kite is user friendly for those taking the leap from inflatable to foil kites. Our latest bridle calculation enhances load distribution and combined with a new arc improves overall performance of the Hyperlink V2. The handling is sharper with a refined bar feeling that is closer to the feel of an inflatable kite.
Our new valve design and position with a new internal structure increases inflation efficiency. Newly designed drainage valves at both wing tips seal to keep air in, and open up when water needs to drain out.
The ability to safely self-land a kite on the snow or land is a crucial feature when adventuring the backcountry or high mountain areas. We have completely re-designed the Hyperlink V2 internal structure and inflate valves to incorporate our industry leading Internal Re-Ride Release System – the same system featured on our dedicated Snowkites.
A true multipurpose foil kite with a new feeling of freedom, the Hyperlink V2 covers almost every aspect of Kiting. Free ride, hydrofoil, boost and float, air style or unhooked, backcountry snow missions, you name it and it delivers!
Ozone Hyperlink V2 - Multipurpose Foil Kite from Ozone Kites on Vimeo.
SIZES
5 / 7 / 9 / 11 / 13
RANGE OF USE
WIND RANGE AND BAR SIZE WATER
WIND RANGE AND BAR SIZE LAND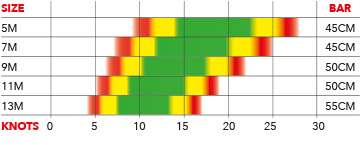 Wind range is indicative only based on an average rider weight of 80kg. Actual range will vary based on rider skill level and type of board/skis used.
SPECIFICATIONS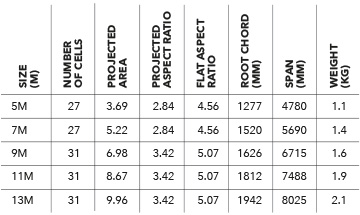 FLYING LINE RECOMMENDATIONS
We recommend 25m flying lines as the best all-round option. Using line lengths of 20m to 23m the handling of the Hyperlink V2 becomes more responsive making jumping more direct and easier. For Hydro-foiling shorter lines (10m to 20m) are preferred by a wide range of users. You will feel an increased 'connection' to the kite, it will become more responsive and direct. In stronger winds with shorter lines the upwind ability will be enhanced significantly.
​4- LINE CLOSED CELL versus 5-LINE OPEN CELL
Watch the how-to video to ensure you understand the correct method to change between 4-Line Closed Cell and 5-Line Open Cell modes.
4-LINE CLOSED CELL MODE
The Hyperlink comes standard in 4-Line Closed Cell Mode, utilizing our Front Line Flag Out Release System. This is recommended for water use – it is a simple and effective flag out when the Quick Release is activated – it works the same way as our 4-line inflatable water kite range
4 Line Closed Cell Mode is recommended when riding on water.
Inflation is quick and smooth after pre-inflating the kite.
If you are already an inflatable kite rider it will only take you one session to get to know the Hyperlink.
For twin tip riders once the kite is in the air and powered up the similarities to an inflatable kite can be felt.
It has progressive handling, generates smooth consistent power, great upwind performance and jumps well with long hang time and smooth landings.
Ideal for Foil Board riding, the Hyperlink produces more power than an inflatable kite size per size - this means you can use a smaller more maneuverable kite to
generate power.
Maneuvers are made easy thanks to the stability and lift produced as the Hyperlink flies through the zenith – a great help when learning to tack and gybe giving you time and float to change board direction.
In light winds the Hyperlink will fly above you unlike inflatable kites that have a tendency to fall out of the sky. This makes getting set up for starting stress free.
5-LINE OPEN CELL MODE
The optional 5-Line Internal Re-Ride Release System Conversion Kit is recommended for snow or land use. The Internal Re-Ride Release System de-powers the kite instantly without tangling, and falls to the ground to re-launch when ready.
5-Line Open Cell Mode is recommended when riding on snow or land.
Similar inflation as in Closed Cell Mode, slightly quicker due to the valves being open.
Snow and land riding are a blast, the easy inflation and Internal Re-Ride Release System means it can be taken anywhere safely.
The Hyperlink combines the perfect balance of handling, pop and float to make the most of terrain and flats.
It is easy to get big air on this machine!
Optional - Ozone FOIL CONTACT WATER V4 Control bar
A CLEAN AND SIMPLE DESIGN, WITH AN EASY-TO-USE TRIM SYSTEM AND FEATURING OUR LATEST INNOVATION - THE CLICK-IN LOOP.
Innovative Click-In Loop
An all-new push-away quick release with an innovative one-step Click-In reload function that is incredibly intuitive. The release handle fits comfortably in the hand, it is quick and easy to activate the release by pushing the handle away. A self-positioning release mechanism locates automatically, ready to be re-loaded by simply 'clicking' in the loop. The Click-In Loop…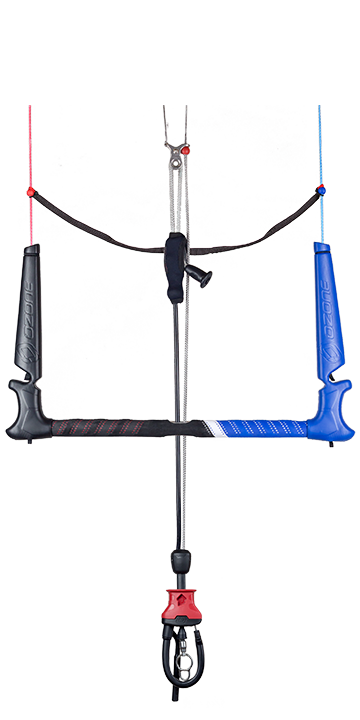 IMPORTANT NOTES:
The kite is water re-launch-able, but we recommend that you keep it flying and out of the water if possible! A drainage system on the wing tip allows any water that may have entered the kite to drain out. Do not use the kite in waves.
Always use a Brake Handle when flying a foil kite. This is the handle/line spanned between the back leader lines on your control system. This easy to grab handle makes inflation, self-landing and reverse launch easier.
This kite features a simple yet effective front line flag out release in 4-Line Closed Cell mode. The 5-line Open Cell mode is recommended for Snow or Land use only. The air intake valves MUST be open when using 5-line mode – if the valves are not set open this will compromise the functionality of the Internal Re-ride Release System and could cause to damage to the kite. After releasing the flag out you should check the speed system, bridle lines and flying lines for twists before restart.
Speed System and Bridle lines should be regularly checked and maintained in the correct trim or the kite will not perform as designed. If they are worn or not to factory specification (+ or - 15mm) they must be replaced. How To videos and a Bridle Check PDF with all measurements can be found at www.ozonekites.com
View All
Close