F-One Swing Wing
SKU:

UPC:
Frequently bought together:
Description
F-One Swing Wing
SIZES: 2.2m, 2.8m, 3.5m, 4.2m, 5.0m, 6.0m
An incredible new way to fly and experience new feelings on the water, once you try it, you'll be addicted.
100% Depower and totally safe
High-end construction
Launch anywhere, even busy or gusty spots
Wide wind range
Five sizes for different conditions
Easy to learn and very accessible
The all-new Swing from F-ONE, a light, compact and totally safe handheld kite you can launch anywhere. Using our extensive kite design techniques, we have created the Swing to be stable, fun to use, and most importantly, easy to learn.
There are no lines to get tangled, no danger of getting dragged, and there is genuinely 100% depower, get ready for a totally new way to enjoy the wind.
Sizes (m2)
2.2
2.8
3.5
4.2
5.0
6.0*
Wind range (knts)
30 > 50+
25 > 42
20 > 35
15 > 30
12 < 25
08 < 20
Recommended inflating pressure (PSI)
10
8
7
6


Who Is It For?
SUP Owners
If you have a paddleboard, then you need the Swing to go with it, it's no fun paddling in 10 knots, but the Swing means you can use your paddleboard no matter the conditions. It's much safer than kitesurfing and is perfect for getting kids involved in water sports. You can learn about the wind and the power you can harness, simply sheet in to get going, then just let go and the power is gone.
It's great fun, and the wings are small and compact, they are the perfect addition to a paddle to get power on the water. With no lines you can take the Swing anywhere, allowing you to access spots that were not possible with a kite. As you improve your skills, it's time to step up into the world of foiling with the Swing.
Hydrofoil Enthusiasts
Surf foilers, SUP foilers and kite foilers are going to love the Swing, the possibilities are endless, and this new sport is only just beginning. By using the power of the wing combined with a surf foil, you can fly upwind at incredible speeds. Then, you can depower the wing, and surf foil on the swells downwind, it adds an element of safety knowing if you miss a swell, you have the power to catch the next one.
Because the Swing isn't attached to the board and is very light, there is no additional weight. This means you can ride much smaller, more compact boards, depending on your skill level. All the power transfers through you, to the board and hydrofoil going through your body, you are in total control.
If the beach is busy or has been banned kiteboarding, then you will have no problems using the Swing, there are no lines to lay out, meaning you can launch from tiny beaches and even boats with ease. All you need is a little power in the Swing and a few pumps, and you'll be up and flying on the foil, experiencing a totally new feeling that is hard to beat. Everyone who tries it gets hooked, and it is easy to learn if you have a foil experience already.
Our design team of Robert Graham, Micka Fernandez and Raphael Salles have invested their full focus into the development of this wing. Endless hours testing and tweaking prototypes have led to one of the most advanced designs on the market. The primary goal of the design team was balance and control, it is essential to have this balance to make learning easy and also for the wing to be stable when foiling downwind on the swell. Power is nothing without control, and the unique shape of the profile allows you to engage power instantly but also release it 100% too.
Built using our lightweight, high-quality materials, including Teijin Dacron and D2 canopy materials, the wings are robust and easy to handle on the beach. The Swing features a single point inflation system, with high-speed airflow, means you will be on the water in an instant. The large volume leading edge gives the wing stiffness and also plenty of power; meaning you don't need large sizes to get going.
The wind range on each size has been carefully thought out to ensure you get the most time on the water. We have designed different sizes in our range as not every rider weighs the same, and some spots have more wind than others. Raphael and Micka have been out riding from 15 to over 50 knots with total control at all times. The low end is impressive, but the high end of the Swing is incredible too.
There are four handles on the Swing to make hand placement simple, we spent time perfecting the positions, so you know exactly where to hold on. In addition, there are harness loop attachments points. When you improve, you can use a harness to help take power from the arms when you go upwind. Finally, there is a wrist leash attached to the front of the Swing for safety, this ensures you will always remain connected.
Boards
You can use the Swing with any SUP, although with an inflatable it may not be suitable to go upwind. Here at F-ONE, we have designed an entire range of boards in our Rocket Wing range that have been built explicitly for this new sport. Smaller and more compact with different amounts of volume, there will be a size to suit you.
REACTOR VALVE Our fast inflation & deflation valve.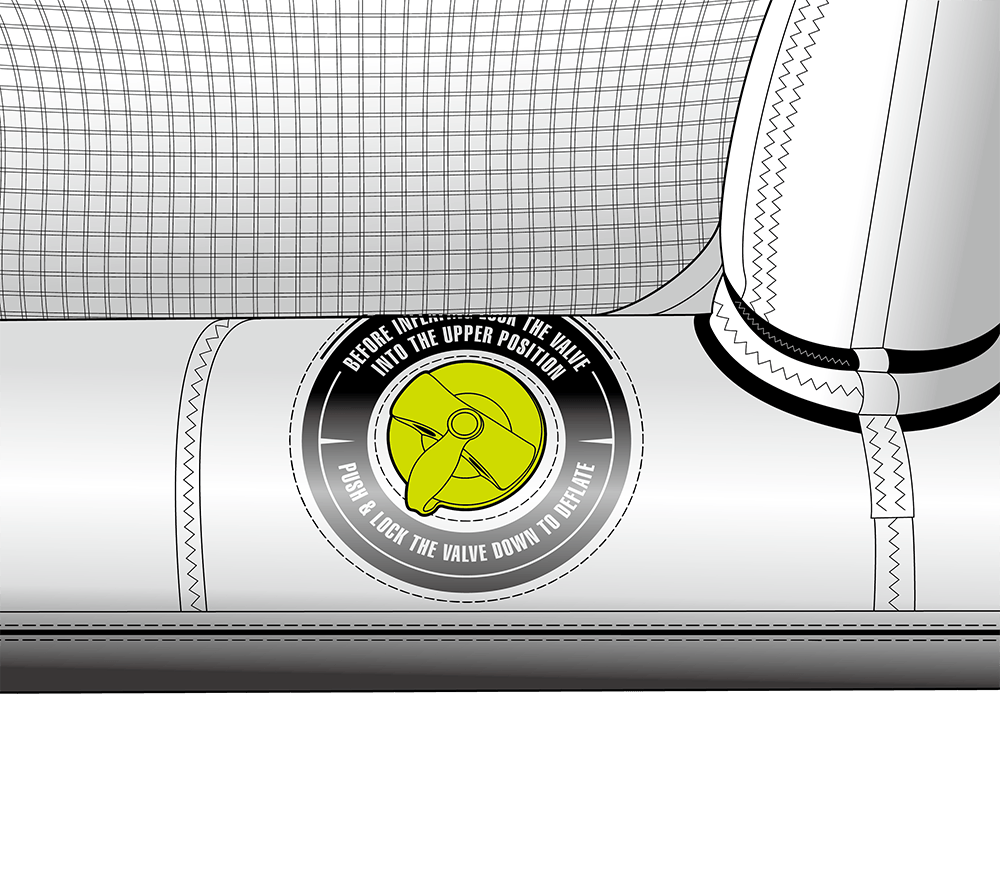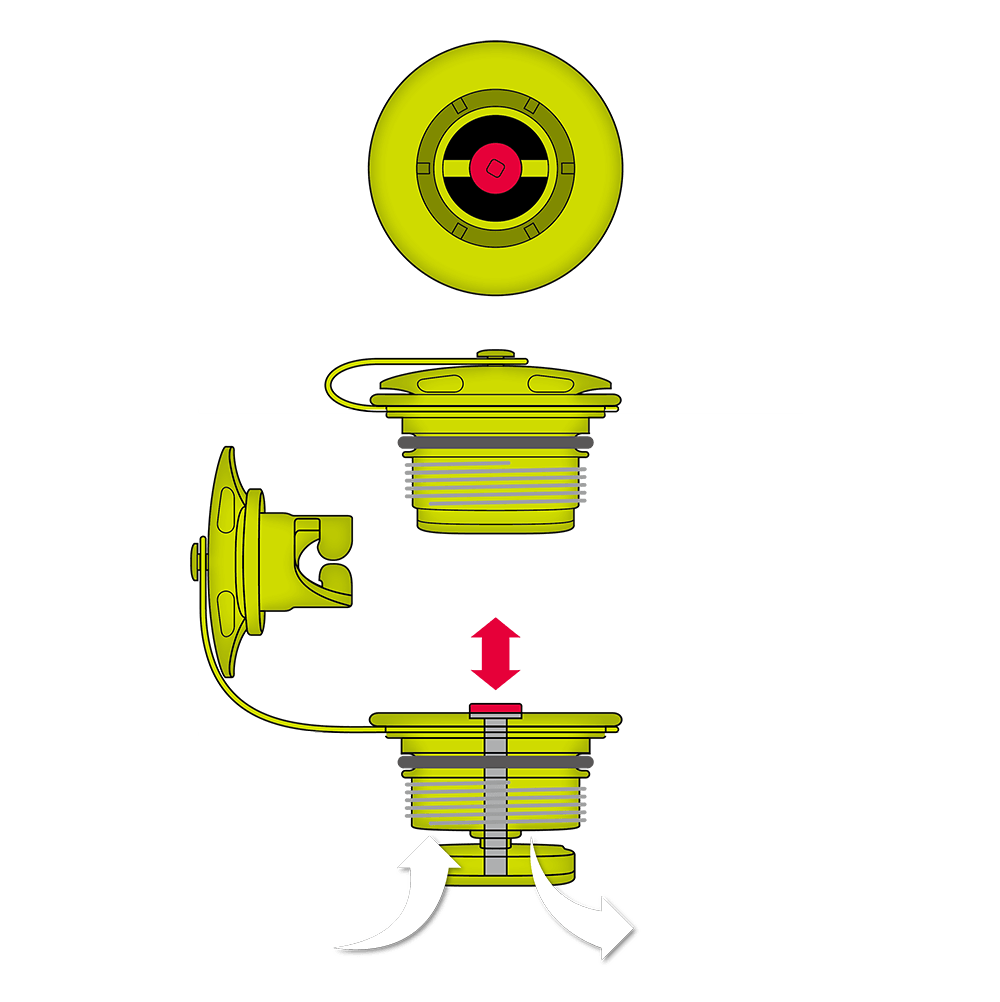 TECHNOFORCE
TECHNOFORCE™ of TEIJIN is a high density Polyester fabric with a tear stopping structure using thin and high tension yarn.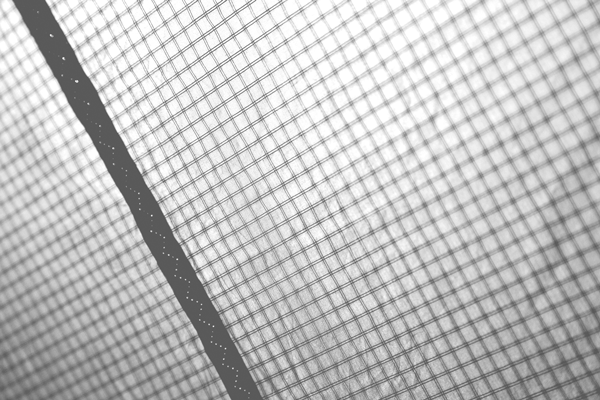 How to choose your volume and board size for foiling with a Surf Wing?
Beginner : Weight in kgs +40L
Intermediate : Weight in kgs +10L
Advanced : Weight in kgs -15L
One rider's experience...
F-One Kite Ambassador and local Wadell (well known kite surfing spot near Santa Cruz) resident Brian Friedmann is fleeing the upcoming cold and often windless Pacific North West Coast and will be spending the winter in La Ventana, Baja Mexico. La Ventana is a fantastic destination in the winter, with strong daily thermal wind, great vibes, good food, and plenty of outdoor things to do. Brian recently started winging and he is telling us his progression from bigger board to smaller ones, including the rocket air surf, the F-One inflatable foilboard series. Not everybody are or will be able to ride very small boards (<50L) when winging, but that being said the smaller you can deal with, the more freedom you have, whether wing surfing or not. The Wing revolution is marching on and we are all having so much fun with it – Nico Ostermann, BAKS Distribution
Team Rider: Brian Friedmann
Location: La Ventana, Baja, Mexico
Having recently taken to wingsurfing, I've been going through a similar learning curve as many who have posted their experiences on social media sites. You start with some variation of a beginner setup like a big board (F-One Rocket SUP 7'6" SUP 120L), big wing foil (F-One Gravity 1800 or 2200) and medium wing (F-One Swing 4.2) with a good amount of wind. So first time out, yes, the SUP was relatively easy to get up foiling on but I found it hard to manage overall.
Hauling it up the beach, getting through the surf and the sheer size of the board 7'6" made for a lot of forward weight that had to be counter balanced by the foil underneath the water making it almost a bit counterintuitive and constantly requiring small weight shifts to keep foiling. I'm around 165lbs, live in Santa Cruz, am a decent surfer, an average kite foiler and ok prone (surf) foiler so some of those background skills helped to get foiling quickly on the SUP. Although I was struggling with switching stance which kept me from making any huge gains back upwind. After making a few runs on the larger SUP board I wanted to try something closer to the other end of the spectrum, a 42L custom "sinker" that I used for surf foiling. After all, I've surfed forever, have reasonable prone surf skills and know how to kite foil fairly competently so how hard could it be? The answer, very frustrating. But like many of us I don't give up easily so I made a commitment to keep going on the shorter board no matter what. I'd already swore to myself that I wouldn't carry that behemoth SUP back upwind so I'm sticking to the smaller board until I get it nailed. A few days at my local beach and several long attempts made, I found myself struggling all the way down the beach (frequently cursing) until one moment just before giving up for the day a big puff pulled me up and I was going. Nirvana! A board that was short enough to turn, easier to make tacks on and had a couple good glides down some swells with the iconic finger dangle of the Swing in front of me. It felt so much better than being on that boat SUP. So the next few sessions were spent trying to reproduce that one amazing water start in order to get more of that adrenaline feeling of being free on the foil with just the Swing. My shins and legs bruised and physically tired each day from all the failed attempts I continued to keep at it and not give up. This sport is really addictive and it's interesting the pains you'll go through to get more foil time.
I tried another shorter board, the F-One Rocket Surf 5'0" at 35L that was a bit easier than the 42L custom I'd been using. It raised my water start success rate very slightly, maybe 20% of the time I'd get up and foiling. The biggest challenge was getting the board to rise enough to the surface from my knees in order to jump to my feet and start working the foil up. My Swing skills were good, I was getting a lot of pull and slowly making my way to the surface on my knees but frequently would just sink the board again as soon as I put a foot on the pad. Then after consulting with the Bay Area Kitesurf crew and looking through their inventory I spotted the F-One Rocket Surf Air. An inflatable that carries the same outline and template as the hard Rocket Surf board intended more for paddle/prone foiling but has the benefit of higher volume (75L) being an inflatable. This could work, a board that gives you more volume but still has a small outline, less (or no) swing weight up front and is easy to manage or at least won't continue to bruise my legs up more than they already are. So with the 5'8" Rocket Air Surf under arm I hit the water and immediately found that the board floats me really well. Actually it sits just above the surface an inch or two when I'm sitting on it and at the surface when on my knees. This is the perfect starting point to begin the process of getting to my feet and bringing the foil up. Once up, the shorter size of the board was still rigid enough to work the foil without any porpoise feeling or too much flex on the deck. What I found is the inflatable has made it infinitely easier for me at this stage in my progression and turned around a 20% success rate of getting up foiling to a 90% success rate. The extra volume allows me to easily get it moving forward which helps to stabilize it and simply put my front foot up, then back, and one or two pumps and your foiling. And this is in very little wind (few caps) so it's not a huge lift from the Swing overhead. I can almost just stand up from a full stop. When it's windier the process just becomes quicker, easier and if real windy I'll move down from the larger foil wing to a medium size one. Overall I'm really happy that I jumped on the Rocket Air Surf and it may not be my ultimate board once I get better but certainly has earned a spot in my equipment list for now.
The inflatable has host of benefits like the soft surface and no more bruises. Extra volume in a smaller outline makes it more maneuverable. Portability is great and when deflated the board rolls into a pack similar to a small kite. This allows you to take it anywhere, it travels easy with no baggage fees. The weight is a key benefit as lugging any board attached to a foil out of your car, up the beach, into a head wind, through the surf, wherever is a pain. This board weighs nothing so you're really only carrying the foil wing weight for the most part. Floatation is fantastic so you can paddle it to get off the beach or when the wind dies and you're a half mile offshore on a downwinder. The Price! It's nearly ½ the cost of most hard boards out there. And the Rocket Air Surf is super versatile. It makes for a great board for kids and others to get on the water or is great behind a boat or jet ski for new riders who want to learn the foil aspect of wingsurfing.
Some other tips I've learned along the way, take to a flat water location with lots of downwind room initially. Fighting larger swell, kelp and surf upon entry/exit only adds to the challenges of getting going. You may not have a flat water spot around but if you do it should be your first choice until you get more proficient. Managing the wing(s) and board is all new and there's a lot going on at this stage of learning. Make sure you have all your gear. Can't tell you how many times I was missing a certain screw, grabbed the wrong foil, forgot the pump adapter, whatever.
Again, new sport, new equipment. Make sure you have everything. Wear the appropriate gear and hydrate. If you're in cold water make sure you have a thick wetsuit. You'll be in the water a lot more than usual when your kiting or doing whatever water sport you usually do. If you're in warmer water you may want to shed a layer or use a thinner suit. The amount of energy output when your learning is significant. It's easy to tire out quickly during this phase of the learning process. The sooner you can get up on the board and actually foil the longer your sessions will become. By the way, warmer water is always preferred! And don't forget to hydrate. It's a bit of a calorie burner in the beginning and your biceps will feel and show it.
If you're new to wingsurfing with no background in foiling it may be easier to take each part separately. In other words, go get a foil board (Rocket Airs a great start) and a friend with a boat or ski and learn getting up on the foil in that controlled environment. It's a fun day on the water with friends and everyone can give it a go. Then separately spend some time with the Swing or whatever brand wing you have. Learn to handle it on the beach competently making hand changes with minimal effort. Simulate what you would be doing in the water when you need to tack. As mentioned, there's a lot going on the first couple times in the water so the more you're comfortable with things on land the quicker you'll be at progressing.
A foot note on equipment, F-One is coming out with the new Rocket Wing series of boards which are a hard board with more volume intended specifically for wingsurfing. I'm looking forward to giving one of these a go soon but still believe the Rocket Air Inflatable is a great option for learning with.
This new sport is changing quickly and part of that is sharing experiences. Hopefully this will help others expedite through some of the pain I experienced working towards the right setup early on and find a niche board offering that may be right for you. Stay Salty!
This is part two in a three-part series on the experiences of a wingsurfers guide through progression. We had a bit of a break in the wind here in La Ventana allowing for some rest and reflection. As mentioned in part one , I started this winging journey recently and wanted to pass along some of the experiences as new people learn about this exciting sport. Now, with roughly a month of solid riding behind me there has been a lot that has been learned and still more to know. I'm spending this season in La Ventana, a well-known kiting destination that I've visited many times over the past 14 years. It's the perfect learning grounds for wing surfing. Coming from a strong kite surf background and focused purely on wave riding, I'm excited how winging has transformed my perception of a place like La Ventana that has "no waves". This is true, there is very little in the way of "surf" here but there's a good amount of deep water swell. Swell that can be easily ridden with a foil and wing which has made La Ventana, do I dare say it, a "surf destination" when viewed through the lens of riding swell with a wing and foil. A quick recap of my progression which started with the 7'6" Rocket Sup by F-one, a 1800cm Gravity foil and 4.2M Swing kite. After a few sessions and frustration with the longer SUP I went towards the other end of the board size spectrum to a custom 41L board that I'd prone foiled. Then to a 35L F-One Rocket Surf model which was fun but very challenging to water start unless there was a lot of wind. Next the smaller 5'8" Rocket Air inflatable was used which was a great transitional board and now in the past week I've managed to get my hands on the new Rocket Wing board by F-One that's just coming out. The Rocket Wing range have four models from a 5'0"x 22" at 60L up to a 5'10 x 25" at 90L. These boards are specifically targeted towards the need for a board that will float enough to get you up on a foil with your wing easily yet maintain good performance. The exact model I have is a Rocket Wing 5'4" x 22" at 60L and I weigh about 160lbs. For the level that I'm at right now, the Rocket Wing board has allowed me more time up on the foil and provided the necessary stability to continue improving my skills. It's much easier to get up on than the 35L/40L boards I was riding and creates a more direct and aggressive feel with the foil than the Rocket Air SUP inflatable which was a great tool in my progression. Much more compact than the 7'6" SUP I started on, the Rocket Wing has way less swing weight and overall felt really controllable. Here's some more detail on positive aspects of the Rocket Wing based on my experience with the board. The ease of use and overall general stability on a number of levels. First, just floating on the board seems easier with a slower rocking motion thanks to the width, thickness, volume and bottom shape of the board. It's stable while sitting in the swell, preparing to get up. It's stable with a knee start keeping both knees parallel and pointed towards the nose when getting to your feet. It's stable with a front foot up while still on a back knee during the transition to your feet and then when bringing the board up onto foil is also more solid. Another positive attribute is the volume and proportional outline of the board. It maintains stability during touchdowns onto the surface of the water when the wind would lull and I was able to remain standing and could get going again on a foil during these lulls much more frequently. On previous boards, even the SUP I'd often fall off as there was either too much side to side resistance or not enough on a smaller sized board. Tacking and jibing were also easier on this board. To date I'd spent most my time riding strapless toe side one way and heel side the other, never switching my feet. The Rocket Wing's wider outline helped to compensate for poor foot placement. After only a few attempts I was able to switch stance much more confidently and maintain a better (heel side) tack allowing me to point higher upwind. Switching stance back to toe side and downwind jibes were easier as well. Portability, the new handle is genius making it much easier to manage the board in and out of the water. Unloading the board from your vehicle is simplified with the designated handle to carry the board from. This is the normal way to carry the board now regardless if I have a foil mounted or not. It just works really well and is positioned perfectly to offset the weight of an attached foil but also feels great when carrying with no foil attached. Getting over whitewater is easier by turning the board upside down, paddling the board with foil in front of you and placing one hand in the handle (it's on the bottom of the board) to guide the board. This works really well and you can literally steer the board with the handle as you paddle out. Even with a harness on with the spreader bar hook I found that positioning myself further back with the harness off the back (nose) of the board made getting out a snap and no more swinging foil of death in the air in front of you every time you hit a whitewater or go over a wave. Standard features on the entire Rocket Wing line are well thought out. The pads are super comfortable even after hours of riding. The twin track (4 bolt plate) system works effortlessly and accepts most foils. While being relatively thick to create volume, the board feels good under your arm and is really light for its size. It's much easier to carry into the wind when on the beach or loading on a car than larger boards. I'm spending a ton more time up on the foil and getting up much easier as a result of the Rocket Wing design. My progress has come a long well over these few weeks and the Rocket Wing made much of it possible. I love to tinker with different size boards, foils and wings and in the last few sessions I opted to go back down to the 5'0" 35L Rocket Surf and found that I can now get up on it much quicker compared to my earlier struggles. As with many sports the more time, the more progression the more you can finesse things as you get better and that seems to be exactly the case when I tried the smaller boards once again. A few things I've learned along the way. Make your life easy with this new sport. There's equipment out there that's really well designed for winging. The sport in general is relatively new and personally I have tried dozens of combinations of boards, foils and wing sizes. Fortunately, I have access to a lot of equipment that most people don't but even after all the trials and tribulations, it would have been easier to wait until gear like the Rocket Wing board was available. It's suited exceptionally well for the average wing surfer. Whatever equipment you end up on, play with the settings and adjustments. Even very small adjustments like moving your foil forward or back a 1/16th of an inch can make a huge change. Once you find that optimal foil setting, mark it with a permanent pen. I mark my boards for different size foils as well. Try shifting your feet further up or back. One thing that I really focused on was to see how light of wind I could ride in. During these sessions I fine-tuned my foot placement and could eek out slightly more efficiency by bringing my back foot directly over the foil and moving my front foot just a hair further back. This is no white caps near glassy conditions. And in those sessions even the tiniest shift of weight will stop you from foiling. The time I spent fine tuning my stance really made a difference on my normal wind days and made me a more confident rider during lulls. Go out and have fun! As with anything there will be good days and bad days and wing surfing is no different. In the early stages of learning you will get worn out quickly with all the getting up on the board, falling and going again. Even if you're a quick learner and master it day one, your arms and other muscles will get tired since they are not the same as the muscles used for kiting. There are weeks here when the wind simply doesn't stop for days. If your addicted to this sport like me, that means two and sometimes three sessions a day or one really long one. After numerous days of continued sessions, you simply can't maintain the same level as you can when well rested. Mistakes become more frequent, frustration grows and you don't have nearly as much fun. So don't forget to take a break, recharge and rejuvenate yourself in between sessions. Hopefully you are out there wing surfing and getting the most out of this great new sport and if not it's certainly worthy of a go. Stay Salty!
The Kiteboarder Magizine Interview....
DEVELOPMENT PROGRAM START, WHO WAS THE LEAD INSTIGATOR IN YOUR BRAND AND DESCRIBE YOUR EARLY EXPERIENCES WITH WINGSURFING DEVELOPMENT?
It all started back in November 2018 when company founder, Raphael Salles, decided to try this new sport. He called our designer Robert and asked him what he could design, then designed and ordered our first Swing prototype. As Raphael and equipment tester Micka were very busy developing the new Bandit, this prototype had traveled to Cabo Verde and Cape Town without being tested. On their last trip to Cabo Verde in February 2019, Raph finally put the Bandit testing on hold for a day in order to test the wing prototype. After that first session, interest in the wing escalated quickly and an intense testing process started. Raph and Robert built prototype after prototype, experimenting and testing many features before finding the excellently balanced wing that is the Swing. The team completely fell in love with the sport and immediately saw all the opportunities that it would offer. Testing it in many conditions, from gusty 45 knots in the south of France to 8 knots in a Mauritian lagoon, The Swing offers a whole new world full of riding possibilities.
WHAT ARE THE KEY DESIGN FEATURES THAT YOU HAVE INTEGRATED INTO YOUR WINGSURFING PRODUCT AND WHAT ARE THE ADVANTAGES OF THIS MIX OF DESIGN AND FUNCTION?
Our expertise in kite design on top of Raphael's professional windsurfing career has helped the team create the best wing out there. Robert brought to the wing development process his experiences in sailing, hang gliding, paragliding, foiling and inflatable kite design which brought the perfect expertise to imagine and create the perfect wing product.
We really wanted to create a wing which was easy and light to transport. This is why we didn't add any heavy or rigid parts to the wing. We wanted, as usual, a big wind range as well as power with precise control that would make the sport super easy for any beginner. A lot of the design process was aimed at keeping the wing as light as possible. We precisely located and limited the number of handles because wet webbing is heavy. We also opted to add harness line attachment points. Using the optional harness line and a hook harness will improve your upwind abilities as well as help reduce fatigue and take the power from your arms when going upwind.
HOW DOES YOUR DESIGN HANDLE THE STANDARD ASPECTS OF WINGSURFING PERFORMANCE: RELAUNCH, STABILITY, UPWIND ABILITY AND HOVER-ABILITY?
The shape of the wing allows it to be the most stable wing in every condition. The Swing's deep profile in the center and the flat parts on the tips allow stability, control and very smooth power delivery. The aspect ratio is low which helps keep the wing out of the water when you are flying. This is key for beginners and advanced riders. When you combine these performance attributes with the Swing's extreme light weight, the hover abilities are absolutely impressive. You can now surf every single wind swell while having total control over the power.
WHAT APPROACH HAVE YOU TAKEN TO WING SIZING, AND HOW DO YOU RECOMMEND THE VARIOUS SIZED WINGS TO YOUR POTENTIAL BUYERS?
We first started with a 2.8m as we believed that we would be riding in the high wind range. But as we tested we discovered the need for wings in the lower end of the wind range and the fantastic feeling that it offered. With 5m and 6m Swings mated with a big foil on your board, you can start riding in 10 knots. Riding in 45 knots has now become very enjoyable with the 2.8m wings. If riders want to ride in 15-20 knots then they can choose the 3.5m or 4.2 according to their board and foil sizes. The most incredible aspect of these wings is that you can cover 30 knots of wind with only two Swing products.
HOW DOES THE WING INTERMIX WITH YOUR CURRENT OFFERING OF FOIL WING AND FOILBOARD DESIGNS AND WHAT WILL BE YOUR FUTURE APPROACH TO BOARD SIZING, VOLUME AND FEATURES?
We quickly realized that you need a specific board for this discipline. We at first only had our surf foil and SUP foil boards but there was a gap in between. You don't need as much volume as a SUP and the volume of the surfboards is too small to really enjoy the sport to the fullest. As a result, we have developed a full range of Rocket Wing boards to fill that gap from 50 to 90 liters, which offer the most comfortable ride. The length of the wing boards is shorter than what you need for SUP yet they give you the volume you need for an easy waterstart.
The Right Wing.
The F-One Swing 4.2M, Rocket Wing 5'4" board and Gravity 1800 has pretty much been my go to setup for most conditions here in La Ventana Mexico. We get regular 18-20 knot days but this season it's been not nearly as consistent with many lighter days and some heavy gusty conditions at other times. What I found in experimenting with different combinations is the 3.5M Swing vs 4.2M with either the Gravity 1400 foil or Gravity 1800 foil (lighter wind) and Rocket Wing 5'4" felt really great. The smaller outline of the 3.5M Swing was easier to handle and more maneuverable especially downwind swell riding where the larger wings may have to be held up in lighter winds. There was also minimal chance for wingtip drag in the water compared to the larger 4.2M, 5M or 6M Swings. It wasn't that much more to get up on the board with the 3.5M than the 4.2M on average wind days (18-20). And once up it's really easy to keep foiling especially if I opted to go with a larger foil. The exception to this is if I'm practicing tricks and want more power or when it's really light wind then the larger wings and foil combinations are great to have in your equipment quiver. Granted you may settle on one or more of the bigger size Swings as your favorite(s) especially if you are a larger rider. Also keep in mind that the Swing is extremely versatile with huge wind range so you can get away with just one wing and I have a number of friends that do this, but it's sure nice to pair the correct size wing for the right wind conditions. And the cost of Swing's are usually the lowest cost item in your winging equipment list vs. foils and boards so it makes sense to have two or even three in your quiver. F-One makes Swing wings in 2.8M, 3.5M, 4.2M, 5M and 6M that will get you on the water starting at 10 knots and keep you there up to a small hurricane. Many other companies offer similar sizing so no matter what brand you're on it's worth checking out.
View All
Close
1 Review
Thanks Tucker for the great service. I would give it a five but haven't had the wind range to really test it out yet. I like the light weight of it and maneuverability. Simple functional design and ease of use. Great product!
View All
Close