Electric Bike Rental - Overnight
SKU:

UPC:
Frequently bought together:
Description
Electric Bike Rental
Required for Overnight Rental
Bikes must be picked up and returned during store hours. Arrangements can be made prior by calling our team at 800-622-4655.
Pick Up: 10am
Drop Off: 10 AM the following day
Grand Haven, MI is a hot spot destination for Michigan and non-Michigan residents alike. For those that may be looking for a new adventure when visiting this timeless town, an electric bike rental may be the ticket to an afternoon of fun! Electric bikes are a unique way of getting around town; after all, renters are being propelled at a brisk 15 - 20 miles per hour with nominal effort. That means there is still plenty of energy to walk the pier, go swimming, and enjoy the numerous shops and attractions Grand Haven has to offer.
Rentals can be made hourly (2 hour minimum), 24 hours, or weekly. At MACkite Board Sports Center, where renters will begin their journey, there is also a multi-terrain Test Track to ride a wide variety of bikes outside of rental inventory.
What to Expect:
For overnight rentals, renters can pick up their bikes at MACkite Board Sports Center (16881 Hayes Street). Before departure, the MACkite staff will have renters sign a waiver and go through basic safety precautions, insuring renters are familiar with the electric bike. Renters will need to provide a driver's license (if applicable) and a credit card. When renters return, they may drop bike off at the electric bike depot and inform the MACkite staff and the driver's license and credit card information will be shredded.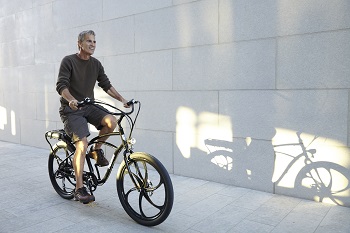 What's provided:
Helmet (if needed)
Locks (if needed)
What riders need to provide:
Drivers License
Credit Card
We will write down both the drivers license and credit card information. This information will be shredded after bikes have been returned.
Age Restriction: Must be 15 or older with a parent; 18 and older without parent.
Bike Transportation
Customers are responsible for transportation of bike. Alternative transportation solutions for groups larger than 8 may be available at an additional charge based on availability of the staff and the quantity of bikes rented.
Pick Up / Drop Off Times
Summer Hours
Monday - Friday: 10 a.m. - 6:00 p.m.
Saturday - Sunday: 10 a.m. - 5:00 p.m.
---

Visiting Grand Haven
Grand Haven has a history dating back over 300 years ago. This lumber and fur trading hot spot bloomed into one of the most popular beach towns in Michigan. One major blessing of Grand Haven is that it has almost anything visitors are after - top-notch dining, attractions, shops, and natural areas. Grand Haven has a number of festivals throughout the year with its largest being the Coast Guard Festival in August. When there are not festivals around, locals enjoy the music, food and dancing of Grand Haven's night life. During the day, guests can visit the Grand Haven beaches, natural areas, and shops. Learn more about Grand Haven through Visit Grand Haven's website.
Rental Map
View All
Close