2019 Ride Engine Elite Carbon Harness - Infrared
SKU:

UPC:

MPN:

39010

Condition:

New
Frequently bought together:
Description
2019 Ride Engine Elite Carbon Harness
Infrared Theme
Disclaimer: 2019 Ride Engine harnesses do NOT come with a spreader bar. To receive a spreader bar, please use the drop down option to choose the proper bar. Have questions? Call us at 800-622-4655.
No twisting, no riding up, no squeezing your stomach like a ketchup packet- the Elite Carbon Infrared harness's stiff, light and form-fitting carbon shell provides the support and locked-in performance you can't get with any other harness. *Spreader bar sold separately.
Features:

Premium carbon and Kevlar construction makes this our stiffest shell.

Lumbar Lock conforms to your lower back and prevent the harness from twisting from side to side.

Elite Carbon shell is light weight and super stiff for a high-performance fit that spreads load evenly across your back and prevents squeezing.

Low profile fit improves mobility and keeps harness down low where it's supposed to be.

Dual-zone closure system allows for top and bottom tightening, a more precise fit and adjusting while you ride.

Cushy Fusion Foam padding makes the harness feel like it's part of your body.
Ride Engine Technology
Shell Skin *New*
Improved materials and finish work provides UV resistance, impact strength, abrasion resistance to increase durability and longevity of your harness.Speed Lock Closure System
Anti-Slip Webbing *New*
New for 2019, softer, more pliable webbing is easier to tighten and adjust and helps prevent loosening during sessions.
Armor Shell
The Ride Engine innovation that changed the game. The hard shell distributes load evenly across your back and sides and eliminates squeezing.
Removable Handle Pass Leash
Wraps around the back, attached by simple larks head knot. Secondary leash attachment located on front-side of harness.
Speed Lock Closure
Dual-zone webbing on each side allows for custom fit, stainless steel clasp slides over spreader bar for a simple, secure closure.
Lumbar Lock
Shell is ergonomically contoured to lock into place along your lower back. Prevents shifting, twisting, riding up and back pain related to soft, flimsy harnesses.
Interchangeable Spreader Bars
Choose between kite and windsurf fixed hooks or our signature sliding ripe spreader bar. Switching bars takes about 30 seconds.
Fusion Foam
Our most comfortable harness yet. A soft foam core conforms to the shape of your body and cushions pressure and load from your kite or sail.
Ride Engine's Fit Guide
Waist (IN)
24 - 26
26 - 30
31 - 33
32 - 34
33 - 36
35 - 37
37 - 39
37 - 39
39 - 44
Waist (CM)
60 - 66
66 - 76
78 - 84
81 - 86
84 - 91
89 - 94
94 - 99
94 - 99
99 - 112
Harness
X-Small
Small
Medium
Large
X-Large
Bar
8"
8"
10"
8"
10"
10"
12"
10"
12"
*Copyright of Ride Engine
Sizing Tips from Nathan
The 6 options of spreader bars ensure that every rider will have a perfect harness/bar interface. The sliding spreader and hook spreader are all available in 8", 10", and 12" models. If you are dropping a size, you may benefit from the 10" bar, whereas if you are staying with your normal size the 8" will provide a tighter fit for those medium body riders. Essentially this creates a half size. Personally I am a 31" waist, and usually ride a medium in Dakine, Mystic, Ion, Prolimit, and NP. For Engine harnesses I use a small harness with a 10" spreader. For freestyle I go with a hook spreader bar. while for wave riding or foilboarding I prefer the sliding spreader bar. No need for multiple harnesses, the bar change is easy and quick and in a couple minutes I am ready to ride in whatever style I would like. The hook is great for those who want to unhook, but where most riders will find their match is the sliding bar. Not only does it allow your hips to articulate and drive comfortably in the right direction, but the reduced leverage on the bar brings your bar closer to your body, provides a more secure connection, and kills spreader bar rib jab for good.
Spreader Bar Options
For surfing, freeriding and general hooked-in riding, the sliding rope spreader bar will literally change your kiteboarding experience. The sliding rope system allows you to rotate your body freely, independent of your kite position, which in turn allows you to keep your harness locked-in and low where it is meant to be.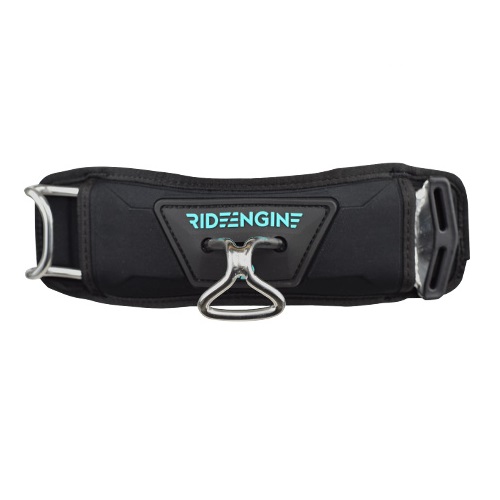 For freestyle riders or those who want the ability to unhook, a standard fixed hook spreader bar is also available. It allows aggressive riders to hold down more kite, ride harder and move more freely than any other harness on the market.
View All
Close