2018 Ride Engine Hex-Core Harness - Gunmetal Grey
SKU:

UPC:

MPN:

38017000

Condition:

New
Frequently bought together:
Description
2018 Ride Engine Hex-Core Harness
Gunmetal Grey Theme
Disclaimer: 2018 Ride Engine harnesses do NOT come with a spreader bar. To receive a spreader bar, please use the drop down option to choose the proper bar. Have questions? Call us at 800-622-4655.
Topping the charts of kiteboarding harness innovation, Ride Engine comes back a second year with stunning colors and additional comfort. What's new? How about the improved molding process to increase strength? Better yet, Ride Engine has also increased padding in the waist belt allows a better connection to the spreader bar. Since Ride Engine is practically a cast for your waist, with the increased padding you'll feel more secure and more even load dispersion. Eliminate rib pain, hot spots, and pesky harness shifting in this low-profile cut harness. Ride Engine is a harness for the people, with the people's comfort as first priority.
Ride Engine harnesses are intended to be used with Ride Engine spreader bars. Any modification, pairing with non-Ride Engine components or spreader bars or use outside of the product's intended purpose is not recommended, many not be safe and will void the product's warranty.
Let's Chat: Is the 2018 Hex-Core Worth the Upgrade?
With the 2018 Ride Engine release, the Hex-Core is on its third iteration since production moved from Coleman Buckley's garage. And without a doubt, this year's Hex-Core is the most refined yet. Is it worth a purchase if you don't already own one? Absolutely? Is it worth the upgrade from a gen 1 or 2 Ride Engine? Let's start by discussing what's new. Read more...
The Ride Engine Hex Core series features a honeycomb core that provides slightly more flex than the elite series. This high-tech construction method distributes pull evenly across your lumbar while still maintaining comfort and a low profile fit. The Hex Core returns as our most popular harness in 5 different colors and features an all new ultra simple buckle system.
Ride Engine Technology
Fusion Foam
New and improved for 2018. Softer and more egonomic foam core conforms to the shape of your torso for ultimate comfort and hold.
Speed Lock Closure System
Completely redesigned for 2018, the Speed Lock closure system now features dual-zone webbing and a metal clasp to replace the single strap and PU tubing of our previous versions. This design prevents loosening as you ride, allows for easier tightening on the fly and lets you synch the harness even tighter.
Armor Shell
Industry's first hard shell harness, the Armor is light, strong and ergonomically contoured. Load is distribut-ed seamlessly from the spreader bar to the armor shell, preventing harness from buckling or pinching.
Precision Fit
Modeled from hundreds of custom body molds, the harness shell conforms to the contours of a rider's back for a precision ergonomic fit.
Removable Handle Pass Leash
Harness comes with easily removable handle pass leash mount around the back for freestyle riders. Harness also has two front-mounted leash attachment points for use when handle pass leash is removed.
Lumbar Lock
Harness conforms to lumbar, back and sides to lock securely in place. Harness won't slide from side to side or ride up.
Interchangeable Spreader Bars
Your harness. Your choice. Choose between the classic performance of our fixed hook spreader bar or opt into the metal slider bar for the premium in hooked-in performance.
Ride Engine's Fit Guide
Waist (IN)
24 - 26
26 - 30
31 - 33
32 - 34
33 - 36
35 - 37
37 - 39
37 - 39
39 - 44
Waist (CM)
60 - 66
66 - 76
78 - 84
81 - 86
84 - 91
89 - 94
94 - 99
94 - 99
99 - 112
Harness
X-Small
Small
Medium
Large
X-Large
Bar
8"
8"
10"
8"
10"
10"
12"
10"
12"
*Copyright of Ride Engine
Sizing Tips from Nathan
The 11 options of spreader bars ensure that every rider will have a perfect harness/bar interface. The sliding spreader, carbon sliding spreader, and hook spreader are all available in 6", 8", 10", and 12" models. If you are dropping a size, you may benefit from the 10" bar, whereas if you are staying with your normal size the 8" will provide a tighter fit for those medium body riders. Essentially this creates a half size. Personally I am a 31" waist, and usually ride a medium in Dakine, Mystic, Ion, Prolimit, and NP. For Engine harnesses I use a small harness with a 10" spreader. For freestyle I go with a hook spreader bar. while for wave riding or foilboarding I prefer the sliding spreader bar. No need for multiple harnesses, the bar change is easy and quick and in a couple minutes I am ready to ride in whatever style I would like. The hook is great for those who want to unhook, but where most riders will find their match is the sliding bar. Not only does it allow your hips to articulate and drive comfortably in the right direction, but the reduced leverage on the bar brings your bar closer to your body, provides a more secure connection, and kills spreader bar rib jab for good.
Spreader Bar Options
For surfing, freeriding and general hooked-in riding, the sliding rope spreader bar will literally change your kiteboarding experience. The sliding rope system allows you to rotate your body freely, independent of your kite position, which in turn allows you to keep your harness locked-in and low where it is meant to be.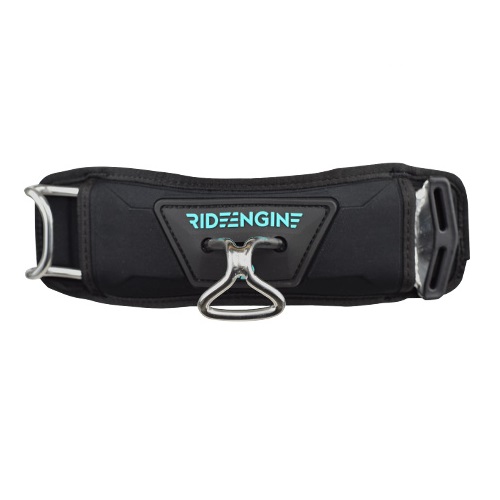 For freestyle riders or those who want the ability to unhook, a standard fixed hook spreader bar is also available. It allows aggressive riders to hold down more kite, ride harder and move more freely than any other harness on the market.
View All
Close