2018 Cabrinha Fireball Spreader Bar (For Use w/ Fireball)
2018 Cabrinha Fireball Spreader Bar (For Use w/ Fireball)
Regular Price: $99.99
$88.00
(You save

$11.99

)
Product Description
2018 Cabrinha Fireball Spreader Bar
Available in 23cm or 27cm
Call 1-800-622-4655 for more information
Required for use with the 2018 Cabrinha Fireball attachment system. The Fireball spreader bar is compatible with virtually all the major harness brands. It fits webbing sizes up to 4cm in the main connection, and it also has tie-down lower strap connectors, to keep the bar extra secure. It has an easy release, that allows you to quickly and easily attach your harness. Fireball's easy release system engages from the top of the spreader bar, so there's nothing in the way of a clean connection. Never before has there been such a completely integrated connection in kitesurfing
Click for Fireball Frequently Asked Questions
---
What Cabrinha has to say about the 2018 Fireball System
Anatomy of Fireball
AUTOLOCK™ INTERFACE
One of the most unique things about Fireball is its intelligent locking gate. Unlike a loop and security pin system, the locking gate is positioned on the spreader bar. This means that it is available anytime you need it. It can be locked and unlocked on the fly.
The secure gate design automatically seats itself into position and provides a friction free method to keep Fireball engaged into the socket.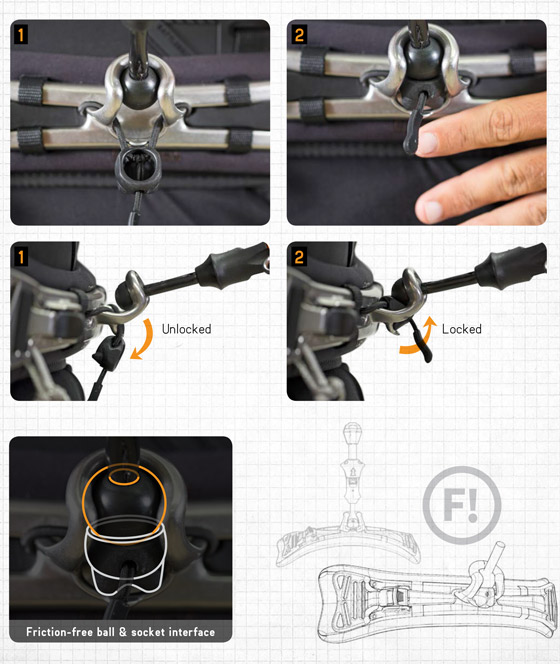 Product Videos
2017 Cabrinha Fireball Control System Overview
03:19
Like a comet from the sky set to change the landscape as we know it, Cabrinha's newest offering to the kiteboarding community is Fireball – a kite connection system. Fireball is specifically designed with kiteboarding in mind, with features that will most definitely change the way you ride. The connection point between you and the kite. Before Fireball, we were limited by the natural restrictions of a hook and security pin setup. This all-new connection creates a fluid and seamless feel that represents a step in the right direction for kiteboarding. Still not convinced? Here's the 411… Safety – Fireball effectively closes the loop, creating what could possibly be the most secure safety system available. Fireball is designed to work perfectly in sync with the Fireball Spreader Bar and your Cabrinha kite, allowing the test and design team to ensure 100% effectiveness of the release and safety system. Foul hooking is now a thing of the past, and you can be sure that your connection will stay where it's designed to be. Comfort – With Fireball, you'll no longer have the upward pull of your spreader bar or a uncomfortable restricted movement from a traditional connection to your kite. Performance – Fireball allows for full 360-degree range of motion with a connection point that is as close as possible to your core. This will translate to a more direct and smooth feel when controlling your kite. Why Fireball? The answer is clear to us – if you plan on doing anything but unhooking, Fireball is for you. Fireball If you plan on unhooking at all, you'll want to look toward Quickloop, Cabrinha's more traditional connection system which allows for a smoother transition between hooked in and unhooked riding.
2017 Cabrinha ...

Like a comet from the sky set to change the landscape as we kn...
Product Videos
Find Similar Products by Category