Description
2017 Cabrinha Switchblade Kiteboarding Kite
Current Discount & Availability
2017 Cabrinha Switchblade Wild Card Colors
Cabrinha's 2017 Switchblade continues the legacy that is one of the most popular kites on the planet. If you're looking for a no-nonsense kite with uncompromising high-end performance in all aspects, the Switchblade is it. The Switchblade offers a very smooth power delivery, easy relaunch, stable flight, and massive jumps. From waveriding, freestyle/wakestyle, freeriding, and even a beginner kite, the Switchblade is capable of pushing you to the next level.
What Cabrinha has to say about the 2017 Switchblade
The Switchblade is back, with over 12 years of design and composition refinements. Evolving into an icon, the Switchblade sits at the heart of our kite range where style and performance are seamlessly interwoven. Loved by many for its unique combination of smooth power delivery, unrivaled predictability and uncompromising high end performance, the Switchblade has redefined the notion of what a single kite can achieve. The five strut design has distinct segments that hold the canopy true to its intended shape, increasing the kite's performance regardless of the wind conditions or angle of attack. The wide ranges of attack angles give the SB the incredibly powerful, predictable pull it is famous for. Unmatched in its power, performance and craftsmanship, the SB unapologetically creates the ultimate kiting experience.
Rider Profile: The discerning rider who values unrivaled predictability and uncompromising high end performance. For those that want style, power, performance, and craftsmanship.
Features & Benefits
5 Strut
Hybrid design
Fusion wing tip shape
Draft forward profile
Ultimate performance in the widest range of conditions and variety of riding styles
Smooth power delivery
Predictable handling
Great upwind performance
Ridiculously high hang times
Distinctly sharp and precise turns
Easy relaunch
Wind Range*
| | | |
| --- | --- | --- |
| Size | Knots | MPH |
| 4 M | 24 - 42 | 27 - 48 |
| 5 M | 21 - 37 | 24 - 42 |
| 6 M | 18 - 35 | 20 - 40 |
| 7 M | 15 - 32 | 17 - 36 |
| 8 M | 14 - 29 | 16 - 33 |
| 9 M | 12 - 26 | 13 - 30 |
| 10 M | 10 - 23 | 11 - 26 |
| 11 M | 9 - 20 | 10 - 23 |
| 12 M | 7 - 17 | 8 - 19 |
| 14 M | 6 - 15 | 7 - 17 |
*For riders around 175 lbs (79 kg). These are guidelines only. Please consult us via Live Chat or over the phone at 800-622-4655 for sizing questions.
Cabrinha Control Bar Options
Refined after years of testing and development in the market, the 2017 Cabrinha Overdrive Bar features on-the-fly adjustment that keeps you properly set up no matter your kite size. The ability to quickly adjust the turning speed of your kite with the simple pull of a toggle is invaluable while working on progression and your preferences on the water.
48-56cm x 22m - Kite sizes 4-18 meters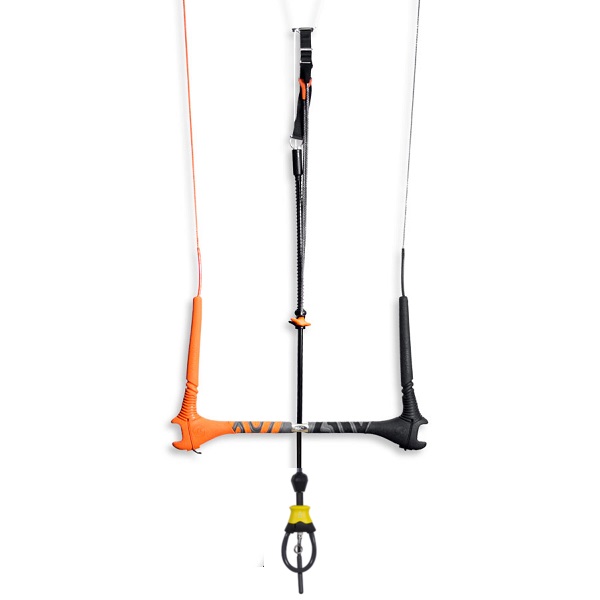 Refined after years of testing and development in the market, the 2017 Cabrinha Overdrive Bar features on-the-fly adjustment that keeps you properly set up no matter your kite size. The Recoil depower setup keeps your trim adjustment quick and easy to access, allowing you to be constantly in control of your power.
The Cabrinha 1X with TrimLite Control System, returining, sets the standard for simplicity and safety. The lightweight design and fixed length design of the bar allows the rider to keep things simple, while still featuring the exceptional safety system of the Overdrive bars, the QuickLoop.
44cm x 22m - Kite sizes 4-11 meters
52cm x 22m - Kite sizes 6-15 meters
60cm x 22m - Kite sizes 12-18 meters
View All
Close
6 Reviews
Excellent service and product

Great kite. Great price!

Purchased an 11m from MacKite and A+++ for their customer service.
I'm new to the sport....however the Switchblade seems to be a great all-around kite. I feel comfortable on the kite and am learning to go upwind with it. I received a great price on it and could not be happier!! Also, MacKite has super fast shipping!

Great kite, Great service

Had a quiver of SB's about four years ago...for some reason I went away from them but now am back and couldn't be happier. The 11M SB is a great kite - jump out of the truck and ready to go for anything - boosting, surf, slicks, downwind, upwind, loops, whatever...and relaunches easily. Love this kite and appreciate the great service at MACKiteboarding - great peeps up there.

2017 Cabrinha Switchblade 10m

Simply the best kite ever. Has a ton of low end grunt, turns fast, etc... Quality product from a premium brand. Would also like to mention that dealing with the folks at Mackite is always a pleasure. Great customer service, super fast shipping. Also have some very informative youtube videos.

I could not ask for a better service.

I'm really impressed with MacKites customer service.
It's not a sales pitch and I can really feel I'm talking to people that kites or at least knows the equipment very well and have me, as a customer and my kiting experience, in mind when helping me choose gear.5 stars!
View All
Close